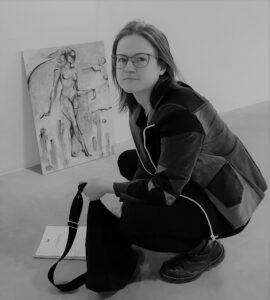 Hi there!
My namn is Sofia Bennrup and I paint on canvas, woodboard, prepared paper and whatnot. I am convinced that you can find material in places you wouldn't think of. It's an economic thing, but also a concrete action for the environment. You don't always have to buy new stuff. The paintings become more interesting and personal when it's not what you expect. My feelings and intuition play a great role in the making and creating. I do not always know what it is suppose to be when I start, but eventually it forms itself and just feels right.
Mostly I use acrylic paint, I like how fast it's drying and you can put layer over layer. I have painted more with oil in the past, a lot of it has to do with logistics. Recently I have discovered water mixable oil paint and I love to use only lamp black and titanium white. Also the format has been getting smaller. It feels good and kind of intimate when you get so close to the canvas. Small changes with the brush make a big difference. That is intriguing.
I live in Malmö, in a region called Skåne, in the south of Sweden. You can get everywhere in the city on your bike in no time at all and that is kind of nice. If you don't have a car this is perfect. Only trouble (well one of them) is when to move bigger paintings. That's when you call your family or friends. Luckily I have both. With great support from them I feel that I can take the next step and expose my art to more people. I joined an art association 2018 KSV. This gives me an opportunity to exhibit more and I have backup if I need to discuss something arty.
I have done some art pieces together with my life partner, Johan Reinholdz. This is a great combo I think. His naivistic drawings make it kind of easier to let go and just play around with colors. The format is usually bigger and this is also a way to expand my techniques. I've also been making some artwork for booklets to bands that he's in. It's more digital art but also creative. With a combination of my sketches and manipulation with effects and patterns in Photoshop this can become some really cool stuff.
We live with two old cats right now and they are a great source of happiness and humor, because cats are so funny! Except for cats I'm a big animal lover. Love to watch nature programs and to be amazed of the versatility and splendor of the animal kingdom. I don't eat meat and try to live as vegan as possible. This is a big deal for me, anyone who knows me will tell you that. So some of that strong conviction that animals are their own and not for us to use bleeds out in my art. If you are aware of that, then you know an important part of me.
I'm a coffee drinker and I like red wine. There is an ongoing list of mine where I gather wines that are organic and vegan. I did not know that a wine could be non-vegan. But apparently they can. It has to do with the clarifying of the beverage. Non-vegan wine are clarified with casein (milk) or albumin (egg protein). The most common way of clarifying though is by filtration where no substance is added, therefore vegan.
My education as an artist consists of painting courses at Fridhems folkhögskola and Östra Grevies folkhögskola. In addition to painting I have a passion for sewing and this is something I'm hoping I can do professionally in the near future. Together with Johan R. we have an electronica band called Murdered Beats and I sing in it. My life as an artist can expand in many directions and I hope they can all connect somehow and make a beautiful creation that I can be proud of.
I hope you get sense of what kind of person I am from this presentation. Please take a look around and don't be afraid to leave a comment or two. If you have questions I will do my best to answer them.
Sincerely yours,
Sofia